I followed the excellent guide as inspiration for installing the BMG Wind on the X1.
The bracket was printed in PETG at 230C on my Prusa Mini; I went with PETG for better thermal characteristics (softening around 80-85C). I put something like ~7 perimeters with 35% infill to make it strong; in fact, the lip that holds the extruder is basically solid. No further treatment was applied.
Sequence of Events
Installed BMG Wind (and used a new nozzle and heatbrake) - I put threadlocker where I could, and the BMG Wind and Heatbrake has CPU Thermal compound to increase heat transfer)
Compiled the Digant Firmware with bit switch
Redid all Bed Calibration
Redid e-Steps for the new Extruder
Redid PID for new Extruder Setup
Redid Calibration Cubes using PLA to set Flow properly (I print at 200C nozzle and 60C bed typically)
Everything looked great at this point, but I wanted to switch to PETG since it has virtually no PM10 and PM2.5 particulate
Found Nozzle Offset for Bed Level on powder coated rough PEI surface
Redid Calbration Cube using PETG to set Flow Properly (230C Nozzle and 85C bed)
Did a Single Test Print (a 30mm tall DND Mini for a friend who has asked)
Here was my problem; I came back in the morning to start my functional print, and within 10 min found that the Nozzle crashed into the Bed and was dragging- the Filament was barely extruding. I cut power, and instantly saw the extruder didn't seem level anymore…I took it apart and found the following
the PETG Extruder bracket has drooped about 4deg C
A Hole with the screw was deformed significantly
the entire surface of the bracket looked warp
Several 'straight' edges were curved now
the BMG Wind cracked in several places
the BMG Wind had a bracket that broke off
Any thought on what is wrong in my set up?
As a new user, I can only upload 1 photo, which doesn't do this justice. I can't even do imgur links, but add the HTTP yourself, and see below for the most impactful 1 photo.
imgur DOT com SLASH a SLASH yhKIozy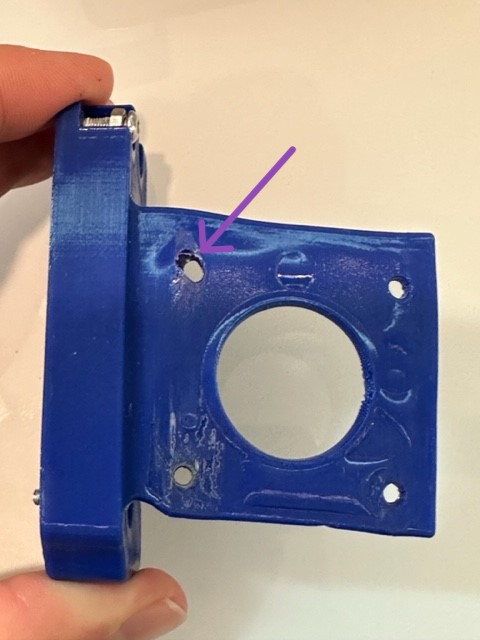 I wonder if the screws were "too tight", but I did them tight enough to feel secure. Any less would not have made sense to me.
Finally, I did some minor modifications, that I believe have not interfered with the Thermal Failure, but will list for completeness:
Custom Shroud for Fan on Heatsink - instead of the old dinky fan, I put a 5050 blower; it blows with a TON of air to keep it cool - on vs off is a huge difference. It is more weight, but to me it is weight in the right place, especially at the speed I print at. I see no connection to the failure, if anything, this would help by drawing heat away from the Body, and thus, the Bracket.
** 5050 Fan with Two-side Duct for the Nozzle** - many others have done this, nothing unique, but I did not do this till upgrading to the BMG Wind. I see no connection to the failure, if anything, it would improve airflow, but the air is directed down towards the print.
Wobble Wings - They are truly amazing for eliminating Z wobble on the prints, but I did not add this till upgrading to the BMG Wind. I see no connection to the failure.