3D Printer Model: Artillery SX1
Slicer: Superslicer
Hardware Setup: SX1 with Klipper Bi-meatal heatbreak
So I've been printing calibration prints all day to perfect my ABS prints.
And when I wanted to start the next print I got an error from klipper an the printer shut down
Error:
Heater extruder not heating at expected rate
So I checked on the printer and there was a burned plastic smell. I manually turned the extruder gear and some smoke and charred filament came out. According the graph the max temp was only 213C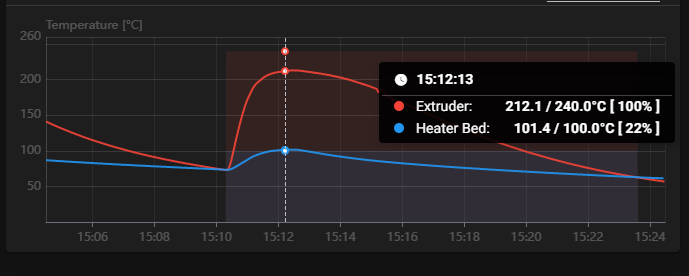 I did a visual inspection and all looked ok, so I did a preheat to 200C without an issue. From 200 I went up in increments of 10C up onto 240C without an issue. A print was started and was ok. After that one I started a new one. Heat block temp by then was dropped below 100C when starting and again I got the error with some burned filament?
I'll swap the thermistor, but this is weird, it either works or it doesn't. But in this case it looks like it just works too slow.